WELCOME TO OUR WEB PAGE.

Welcome to our family web page. This web page contains information about our family and our activities.
This site also includes information about Holy Cross Lutheran Church. We are in the process of developing this web site, so please feel free to explore and if you're inclined to join us on any Sunday you will be warmly greeted and made to feel like you are a part of our Christian Family.
Information about the Independent Merchant League is available here as well.
---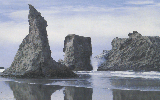 Click on a member of our family to see more information about that person.
Dave
Tracy
Kim
Casey
---
Here are some useful links:
---

Last Updated on 6/28/2005
By Dave Hanel
Email: dhanel@thehanels.com
Copyright (c) 1998 All Rights Reserved